Blog Home
Your Dishwasher Can Be Used For Other Things Too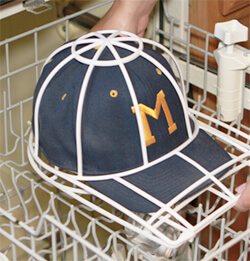 Though it sounds crazy, your dishwasher is capable of washing so much more than just your dishes. Learn how this cleaning powerhouse can sanitize, clean, protect and extend the life of things other than dishes!
Shoes
Like our title says, you can put the sneakers in the dishwasher. (Just don't combine them with your dishes). Shoes get a lot of wear and get dirty very quickly. If you have little kids running around who like to get their feet dirty, this is a tip you'll definitely want to use.
Before putting a pair of shoes in the dishwasher to be cleaned, give them a once-over to look for any extremely dirty spots that may need scraped or scrubbed off before going in the wash. Make sure the open part of the shoe is over the rungs of your bottom dishwasher rack and that the bottom part of the shoe is facing up. After that, run the dishwasher with your normal dishwasher detergent. Remember to turn off the "heat dry" option or you might end up with a shrunken pair of shoes. Remove them from the dishwasher once the cycle is finished. Let your clean shoes dry overnight.
FUN FACT: You can also clean your flip flops on the top shelf of the dishwasher.
Keys
Think about it - your keys go wherever you go and can get touched by a lot of hands. Your keys are probably covered in germs.
It's not recommended to put key fobs in the dishwasher, but simple metal keys can be put in your silverware holder for a wash cycle. They'll come out shiny and sanitized.
Dog Supplies
Dogs love their toys. They love them so much that they'll claw and drool all over them. Needless to say, they need a little extra cleaning from time to time.
Most of your dog's supplies can be run through the dishwasher. Skip the detergent and just use a little vinegar instead. Soaps often contain chemicals that are harmful to pets, but vinegar works as a disinfectant. Their dishes, plastic toys, collars and leashes (not made of leather), can all be cleaned in the dishwasher without the "heat dry" setting.
Makeup Brushes
These brushes pick up a lot of gunk after each use. Then, they get used again each day without a thought. A quick cycle in the dishwasher gets them clean and extends their lifespan.
Makeup brushes can go in the silverware holder to be cleaned and sanitized. Once a month is usually enough for this thorough cleaning. Ensure that the brushes are completely dry after you clean them.
Garden Tools and Hand Tools
It's pretty obvious that your garden tools can pick up some dirt after each use. Other metal and hand tools with plastic handles can also be cleaned in the dishwasher.
After the dishwasher cleans off the grit and grime, do not use the "heat dry" option and remove the tools immediately to dry by hand. Drying by hand lowers the chance of rust forming on the tools.
Plastic Children's Toys
It's no wonder that your child's toys might need a quick wash to get rid of all the germs they pick up: those toys get around.

Plastic kids toys of all kinds can be placed in the dishwasher for an easy sanitation. If you have a bunch of small plastic toys (legos, small game pieces, blocks, etc.), they can be put in a mesh bag so they don't get lost and fall through the racks.

Important: Turn off the "heat dry" option to avoid any melted toys.

As you can see, your dishwasher works to clean more than just your dishes. Save a few minutes and use it to clean and sanitize other items around your house, you'll be glad you did!

520 Park Avenue