Blog Home
Noise and Your Apartment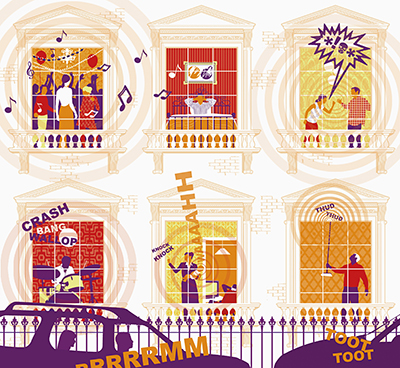 Continuing with our Lease Agreement Series, this week's topic is "Noise." It happens, and sometimes it can't be helped. Sometimes neighbors are just being rude. We understand, and we want to make your life easier. The lease reads: NOISE and BEHAVIOR: You may not make, permit or facilitate any unseemly or disturbing noises or conduct by the Tenant, Tenant's family, employees, agents, guests and/or invitees; nor do, permit or facilitate any illegal, improper, objectionable, undesirable or immoral conduct or obstruct or interfere with the rights, comforts or convenience of other tenants or Landlord. Tenant will not permit to enter the Premises or to remain therein any person of bad or loose character or of improper behavior. Tenant further agrees not to conduct, give or permit vocal or instrumental instruction or practice. This basically states that you and your guests should keep quiet at all times. It also states that you and your guests won't participate in illegal conduct of any kind. While we most certainly agree with the latter, the former leaves much to the imagination. While nothing in the lease specifies types of noises, common courtesy should always be at the forefront of your mind. But what exactly is considered reasonable? Here are some examples:
| | |
| --- | --- |
| Reasonable | Not reasonable |
| A baby crying | Yelling or screaming among adults or children |
| Occasionally hosting a few guests | Hosting a party larger than 10 guests regularly |
| Vacuuming/cleaning at reasonable hours | Hammering, nailing, or other construction |
| Normal to light footsteps | Jumping, wrestling, or "rough-housing" |
| Dog barking occasionally | Dog barking consistently throughout day/night |
| Outside traffic | Loud activity in parking lots or common areas |
Since we can't cover all forms of noise, it's important you contact the 520 leasing office to discuss the noise(s) you're hearing and at what time of day they're occuring. Every complaint is handled with complete confidence, so you shouldn't resist a complaint for fear of being found out. We always address the issue with the resident without revealing the source. If you are the source of noise complaints, a noise violation letter will be issued. On the third notice, you may face eviction. Please be courteous of your neighbors and remember that you share a space with several other tenants who respect your privacy and comfort, and expect the same from you. Should you ever have questions or concerns, feel free to contact the leasing office!